Summer Internship – Training Program – June 2023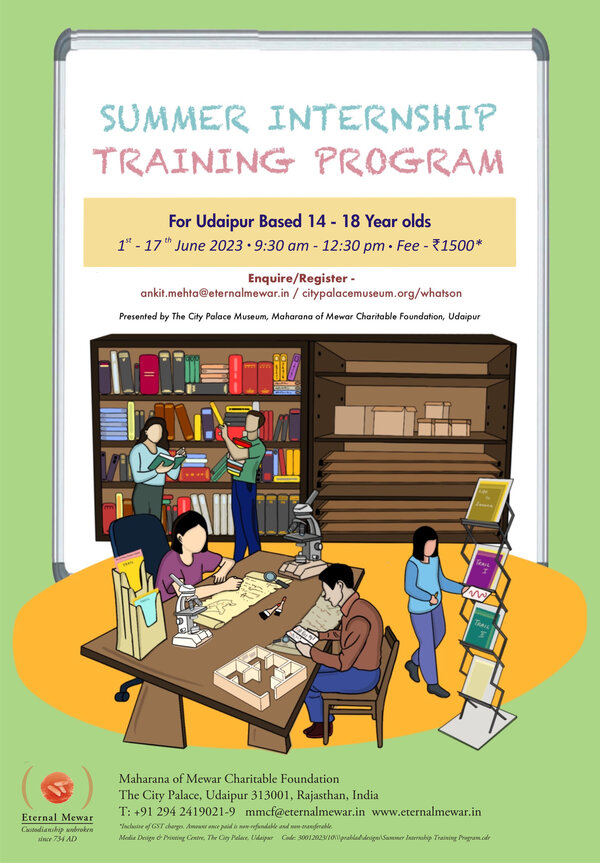 Interested in art, history and museums, then this Summer Internship – Training Program is for you! A fun-learning program designed for students aged 14 – 18 years, to introduce you to different workings within a Palace Museum. As a participant, you will engage hands-on at the Museum with the facilitators, over a course of 15 days, at the end of which you will be given a Certificate of Participation. This program is exclusively for persons based in Udaipur. To participate, email ankit.mehta@eternalmewar.in. Last date for registration is 15th May 2023.
Dates - 1st June – 17th June (Mondays – Saturdays)
Timing - 9:30 am – 12:30 pm
Intake - 30 participants (max.)
Fee - Rs. 1500/-
Sessions
Tales from the Librarybegins from down under, with an exploration of the sixteenth century subterraneous space of the Maharana Mewar Special Library! In this, participants will hear how this library built on the rare paper-based collections of the Maharanas to presently house and care for 35K+materials. They will also learn library systems and software of accessioning.
Researcher's Treasure Trove delves into former king's daily diaries (bahida), maps and more! This session will include a visit to the Maharana of Mewar Research Institute.
Into the Archives looks at the nitty-gritty of written and photographic documentation, data base entry, handling and storage of Museum objects for which participants will be provided exclusive access to the Museum archives.
Be a Heritage Protector encourages participants to put on a new lens, appreciate and value cultural and familial heritage and look at ways of conserving them for posterity. This session acts as an introduction to the science and art of conservation, and includes a visit to the conservation laboratory! Participants will be asked to carry an object from their homes which they will examine and document under guidance of conservators.
Make Me a Museum is a hands-on curatorial workshop wherein participants will work in groups to create a mini 3D model of an exhibition space, with art and craft materials provided. They will brainstorm on ideas of display, make a selection of artworks and conceptualize the theme of the exhibition. The facilitator will guide them through the nitty-gritty of this area of work in a Museum while encouraging creative play and fun learning.
Trail Along will engage participants with the Life in Zenana exhibition. They will be encouraged to read and explore text and visuals seen in the display and design / illustrate a trail! The trail is to guide the viewer's eye to interesting elements, engage their thought and creativity and serve as an accompaniment to the exhibition. Participants will be provided access to the new display and the necessary stationery material.
Flowers in Lime will bring out the artisan within the participants. They will work with lime Araish, a traditional material used on architectural structures, to create flower motifs as seen at the Palace.
Get onsite brings on architects, structural conservators and engineers - Participants get to explore a site with them and understand the several nuances of their work at a Palace. Planner Programmer explores the areas of event management and promotion, and use of social media as one of the tools.
Mission Publication will engage participants creatively in a book reviewing activity. Situations of decision-making with regards to printing and publishing content will be presented to them, which they will have to evaluate.