Art Adventure - February 2023
Art Adventure is a monthly series of fun-filled, hands-on workshops organized onsite by The City Palace Museum, Maharana of Mewar Charitable Foundation, Udaipur.
Each of the below mentioned workshops are priced at Rs 150 each. The workshops are open to all. Udaipur institutions can pre-book a slot at ankit.mehta@eternalmewar.in. Certificates will be provided on request, at additional charge.
Timings- 10 am – 1pm, 2pm – 5 pm
Venue: Activity Room, Near Curator office, Zenana Mahal, City Palace, Udaipur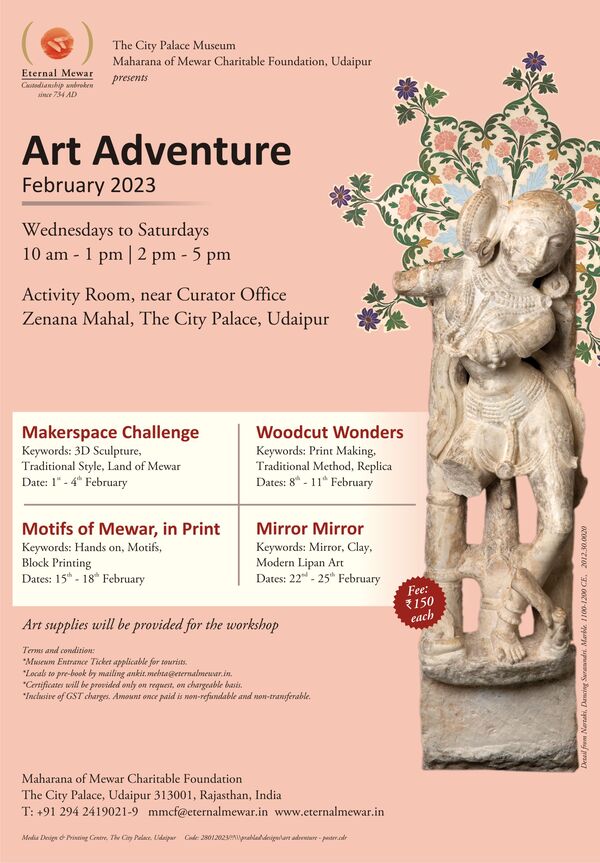 Workshop #1 Makerspace Challenge (MSC) provides opportunity to conceive and create 3D sculptures while referencing the historical lore, magnificent palaces and traditional lifestyle of the land of Mewar.
Dates- 1st to 4th February
Workshop #2 - Woodcut Wonders (WW) uses the traditional printmaking technique of woodcut to convert paintings and mosaic arts into prints. Come learn how woodcut blocks, copies or replicas and layering of colours are done.
Dates- 8th to 11th February 2023
Workshop #3 - Motifs of Mewar, in print! (MOM). In this hands-on workshop, participants will get acquainted to and experience the techniques of print making and the unique forms of motifs seen in Mewar and the City Palace, Udaipur.
Dates- 15th to 18th February 2023
Workshop #4 – Mirror-Mirror (MM). Learn the mirror art form that is older than 100 years, and that features popularly on the walls of yesteryear Udaipur including at its City Palace. Participants will be provided insight into the nuances behind making this art, its evolution over time; be encouraged to look closer and appreciate the said art form better.
Dates- 22th to 25th February 2023