Painting with Poetry in Sahibdin's Rasikapriya
Art Adventure is a monthly series of fun-filled, hands-on workshops organized onsite by The City Palace Museum, Maharana of Mewar Charitable Foundation, Udaipur.
The month of March is dedicated to women; celebrations during the month include women's day and women-centric festivals like Gangaur. The activities are curated around this theme, and are closely linked to the Life in Zenana Exhibition – a 300 year rendition of women's lives, many roles and attributes that they possessed while living within the Palace for Women, at Udaipur.
Each of the below mentioned workshops are priced at Rs 150 each. The workshops are open to all. Individuals and institutions from Udaipur can pre-book a slot at ankit.mehta@eternalmewar.in. Certificates will be provided on request, at additional charge.
Timings- 10 am – 1pm, 2pm – 5 pm
Venue: Activity Room, Near Curator office, Zenana Mahal, City Palace, Udaipur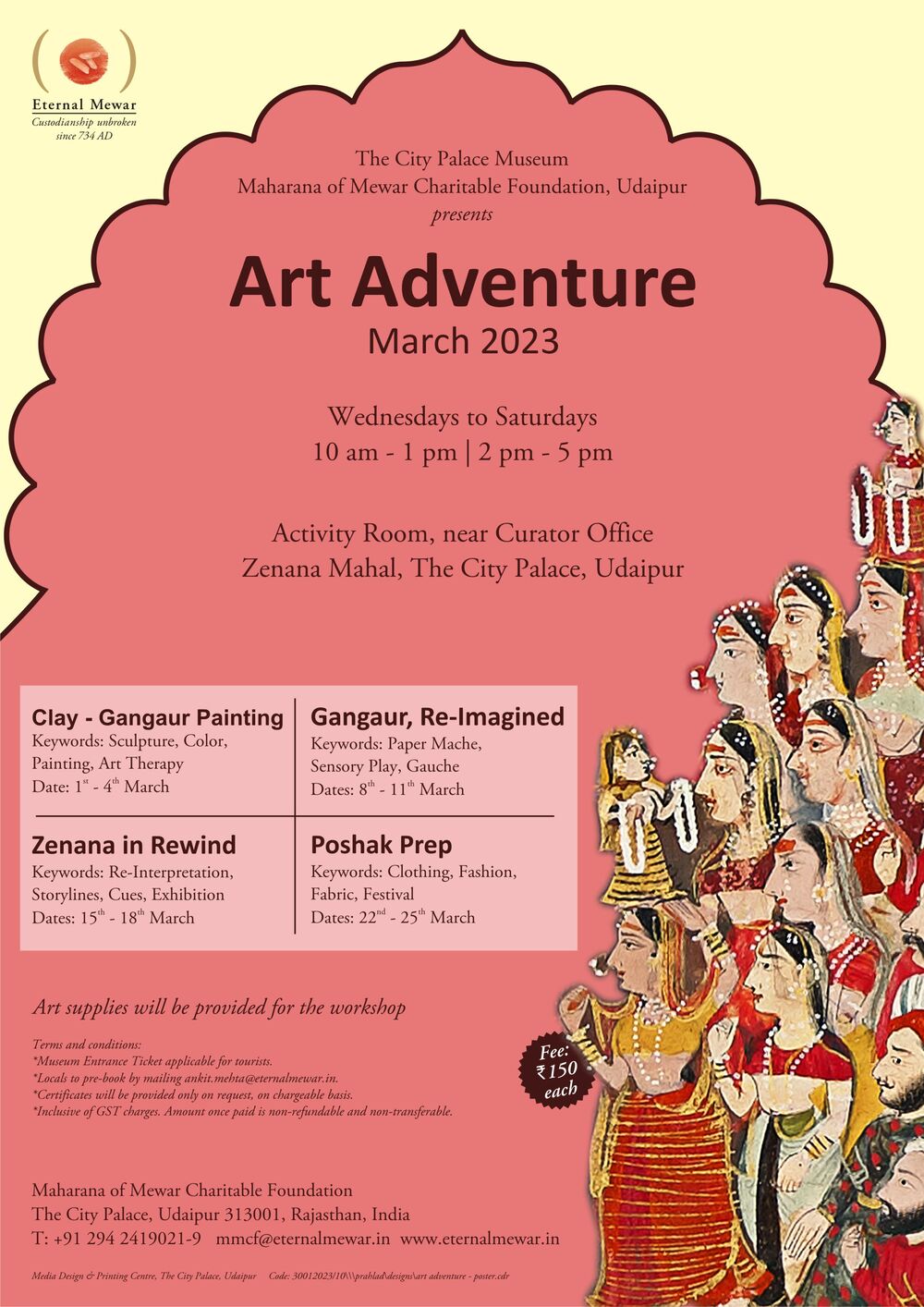 Workshop #1 – Clay-Gangaur Painting (CGP)
This workshop will allow participants to indulge in painting clay figurines of Goddess Gauri; additionally get creative and expressive as they connect with the culture and tradition of Rajasthan, through storytelling and folk songs.
Dates- 1st-4th March 2023
Workshop #2 – Gangaur, Re-Imagined (GRI)
Traditionally built in wood or clay, this workshop encourages participants to re-imagine and re-interpret the Gangaur figurines in a new medium of paper Mache, clay and gauche. The workshop also touches upon the historic and modern-day ways of ornamentation and depictions.
Dates- 8th-11th March 2023
Workshop #3 – Zenana in Rewind (ZIR)
Based on the narrative of the Life in Zenana exhibition, the workshop enables participants to engage with, re-imagine and situate themselves in scenes and scenarios from the 300 year history of the Palace for Women, at Udaipur as depicted in the exhibition. Participants can choose from their preferred medium to create aspects from this exhibition. This workshop makes use of visual cues, encourages an exploration of the curatorial storyline in the exhibition, urges thought, inculcates empathy, and moulds the creativity of the participant.
Dates- 15th -18th March 2023
Workshop #4 – Poshak Prep (PP)
In this workshop, participants get to custom-make a mini-sized 3 piece Poshak or outfit for Gangaur! Participants will learn and explore traditional colours, fabrics, embellishment and styles seen on the textiles used for the Goddess.
Dates- 22nd-25th March 2023