OBJECT LOANS
The City Palace Museum, Udaipur is committed to and extends its support towards research, creative or scholarly pursuits, and cultural expressions of the same. Across the years, we have loaned several objects from our collection to cultural institutions worldwide, giving new audiences a chance to access and engage with our works of art.
RECENT LOANS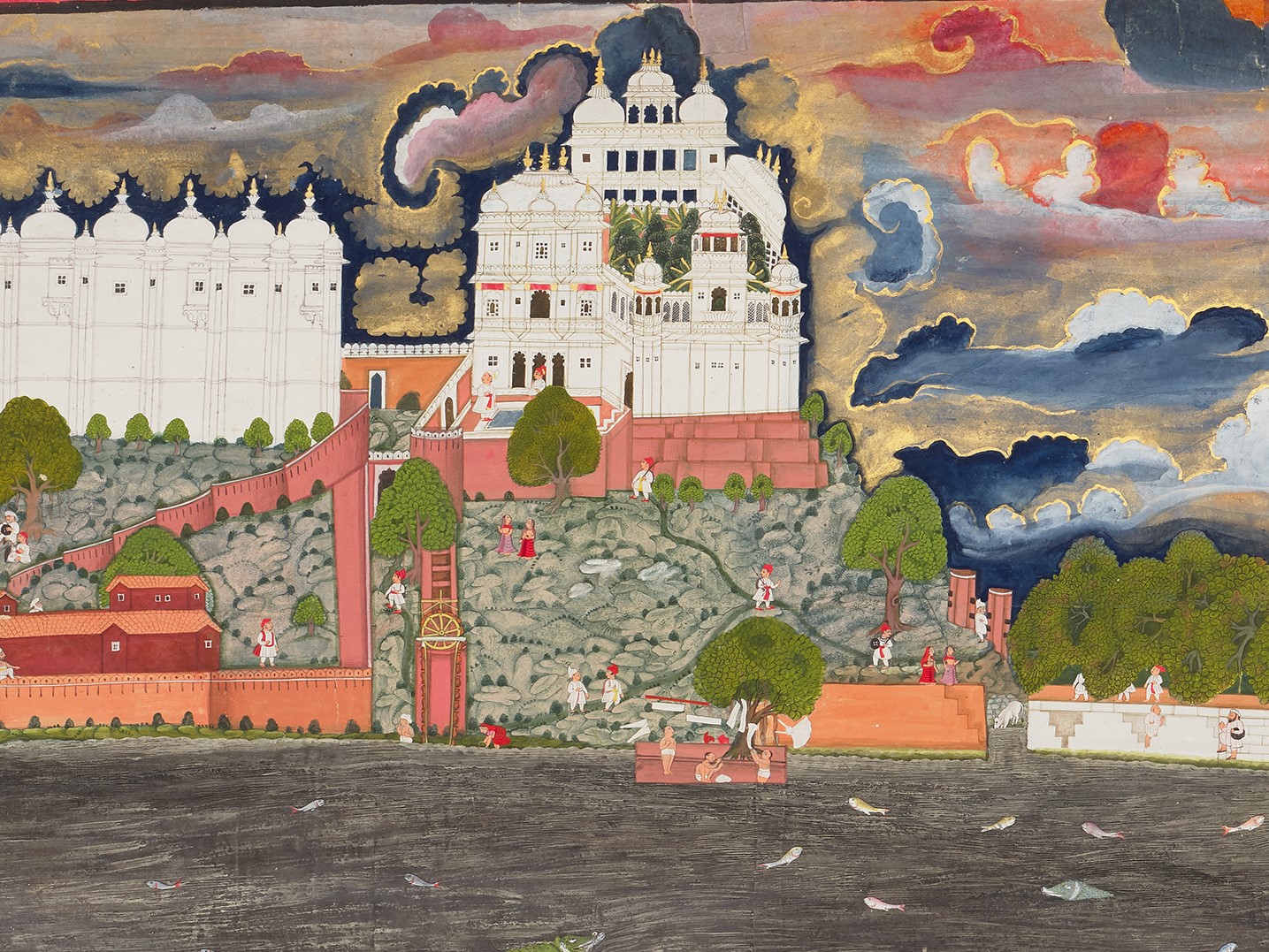 Maharana Sangram Singh II in a Boat Procession and Hunt | Gum Tempera on Paper | 1722-23 CE | CPMU 2012.20.0015
30 works on paper including a monochrome, preliminary sketch depicting the 1832 Indo - British Durbar at Ajmer, and some exquisite paintings and photographs from the collection are loaned to Smithsonian's National Museum of Asian Art for the forthcoming exhibition A Splendid Land: Paintings from Royal Udaipur. Our works document important events, visits, processions, and festivals of the region. Through an exhibition model that engages sensory experience, the curators, Dr Debra Diamond and Dr Dipti Khera, capture the underlying moods (bhava) that the depicted spaces evoke, including the city's palaces, lakes, and mountains.
The exhibition has been organized by the Smithsonian's National Museum of Asian Art in Washington DC, in partnership with the Maharana of Mewar Charitable Foundation, Udaipur and Friends of Mewar. Subsequently, the exhibition will travel to Cleveland Museum of Art, Cleveland, Ohio.
For loan requests, please read: Museum Archives: Access Policy and Guidelines
OBJECT LOANS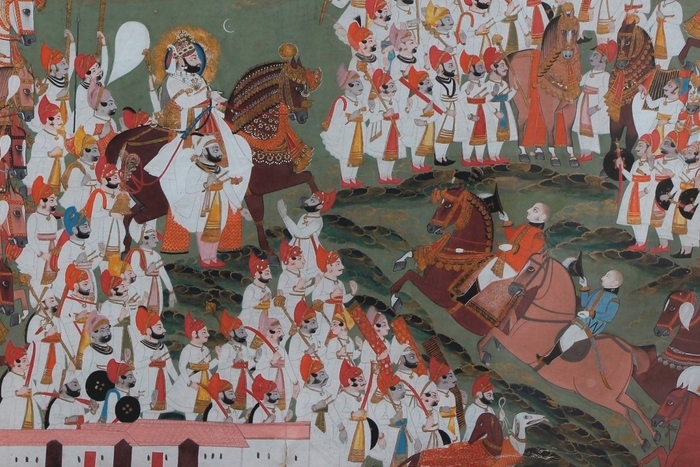 Maharana Bheem Singh Receives James Tod | Attributed to Ghasi | Udaipur | c. 1820 CE | CPMU 2012.19.0035
Between 2009 and 2021, our collections featured in several renowned international exhibitions. In the 2009-10 exhibition by the Victoria & Albert Museum, London, titled Maharaja: The Splendour of India's Royal Courts, a selection of our Mewar paintings were featured. The exhibition explored the spectacular material culture of India's rulers or 'maharajas', spanning the 18th century to the mid-20th century, and their patronage of the arts as symbolic of royal status, power and identity. The exhibition further toured to the Kunsthalle Der Hypo-Kulturstiftung, Munich, Germany.
Where Three Dreams Cross - 150 Years of Photography from India, Pakistan and Bangladesh (2010) was a powerful history of the lens in the subcontinent, presented at the Fotomuseum, Winterthur, Switzerland. It gave an inside view of the three countries, and how they were shaped through the lenses of their photographers. A selection of our photographs, including rare portraits of princely state rulers featured alongside collections from other institutions, galleries, archives and private collectors.
Celebrated as "wonders of their age" by their contemporaries; very little was known about the lives of Indian artists for a very long time. The 2011 exhibition at Museum Rietberg, Zurich, titled The Way of the Master: The Great Artists of India, 1100–1900 microscopically analysed and deciphered signatures, pilgrim registers, and presented stylistic comparisons that resulted from their research. Our works, including photographs and paintings produced by renowned artists such as Tara, Mohanlal, and Shivalal were showcased.
Mohanlal | Albumen print | c.1875 CE| CPMU 2008.01.0104

Nartaki, dancing surasundari | Marble | 1100–1200 CE | CPMU 2012.30.0016
Exquisite pieces from our sculpture collection including a range of Surasundaris, travelled to Paris in 2014 for The Kama-Sutra: Spirituality and Eroticism in Indian Art, an exhibition at the Pinacothèque de Paris that explored various erotic depictions in Indian Art while attempting to bust myths around the Ancient Indian treatise, and provide a fresh perspective to the concept of 'Kama' or desire.