Painting with Poetry in Sahibdin's Rasikapriya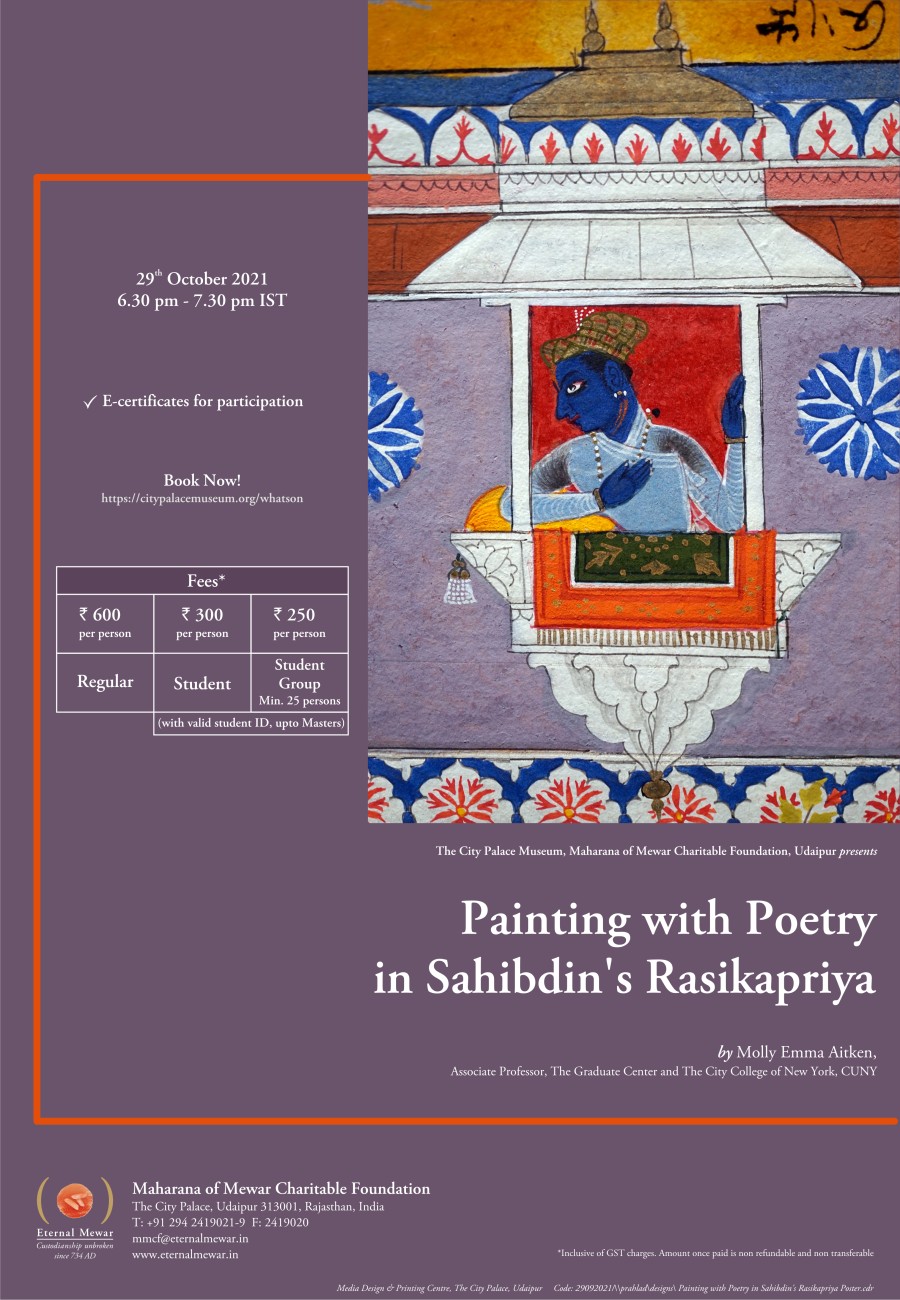 The City Palace Museum, Maharana of Mewar Charitable Foundation, Udaipur presents
Painting with Poetry in Sahibdin's Rasikapriya
by Molly Emma Aitken
29th October 2021 6.30 pm – 7.30 pm IST
Fee: Regular Ticket: Rs 600/-
Student Ticket (with valid student ID, upto Masters): Rs 300/-
Student Groups of minimum 25 persons (with valid student ID, upto Masters): Rs 250/- per person
Participants will receive E-certificates!
For more details and to book seat, visit https://forms.gle/YPyE9SnpWJyeDq5d7
Synopsis
In this talk, we look at how painting engages with poetry in Sahbidin's Rasikapriya to create a fresh experience of Keshavdas' masterpiece on poetry, love and the types and moods of women. Drawing on a collaboration with classical Hindi literature expert Allison Busch, Aitken looks at the illustrated manuscript as an integrated whole. She compares how Keshavdas' words and Sahibdin's paintings visualize settings, characters and situations and how they stimulate the feeling of eros for connoisseurs. She also compares Sahibdin's iteration of the text with contemporaneous illustrated Rasikapriyas, including the subimperial "Boston Rasikapriya," to realize how bold and innovative Sahbidin's approach was to making pictures of and for texts.
Molly Emma Aitken is Associate Professor at The Graduate Center and The City College of New York (CUNY). Her publications include When Gold Blossoms: Indian Jewelry from the Susan L. Beningson Collection (London: Asia Society and Philip Wilson Publishers, 2004), and The Intelligence of Tradition in Rajput Court Painting (New Haven: Yale University Press, 2010), which won CAA's Charles Rufus Morey award in 2011 and the Ananda Kentish Coomaraswamy Book Prize in 2012. Aitken is working on two manuscripts. One, We Are All Women, is about gender, eros and play in Mughal painting; the second, In the Sisterhood of Images, is a memoir in art history.
For more details and to book seat, visit https://forms.gle/YPyE9SnpWJyeDq5d7